Data Merging
Multi-Level Failure Reporting
Multi-Level Failure Reporting (MLFR®) is used to aggregate all failure events within an equipment boundary to its parent equipment level.
An equipment item may have hundreds of even thousands of components represented in the system
A malfunction report can be generated for any one of those components or for the parent equipment
Any failure within the boundary is exactly one failure of the parent equipment, regardless of whether the event is reported at the equipment or component level
MLFR gives you aggregate failure metrics at the EQUIPMENT LEVEL with standard SAP reports
SAP Selection Variants
Selection variants in standard SAP reports are very effective when you have high-quality equipment-level aggregated failure data.  With multi-variable selection, you can query the entire enterprise failure dataset for things like:
All failure events where operation and production losses exceeded $1,000,000
Total operational and production losses caused by failures of a specific manufacturer part number
All failures caused by an installation error with consequences greater than $50,000
All instances where hot standby pumps did not function on demand
All environmental and safety consequences associated with storage tank process leaks
Examples of multi-variable section for failure metrics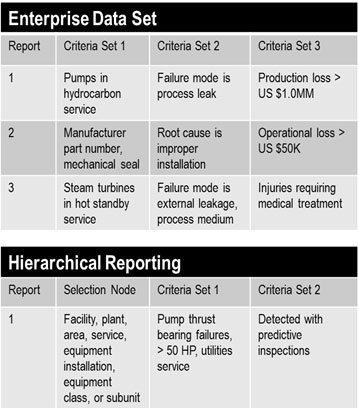 Hierarchial Failure Reporting
ISPM equipment taxonomy enables summary reporting with standard SAP reports.  For example, you can get summary breakdown statistics for:
All pumps in a steam plant
All Boiler Feed Water pumps
Boiler Feed Water Pump E
Any major component group (subunit) of Boiler Feed Water Pump E
Data Assessment
When combined with ISPM failure data collection and merging processes, standard SAP reporting is an effective tool for generating equipment failure metrics.   The SAP Plant Maintenance Information System (PMIS) is a flexible tool for aggregating and analyzing equipment failure data.  PMIS is summary information stored in data structures.  For example, summary-level equipment failure data are stored in data structure S070 "Breakdown Statistics."  PMIS is part of SAP's Logistics Information System (LIS), which is standard delivered with SAP software.   Useful PMIS reports for equipment failure data include:
MCJC: MTTR/MTBR - Functional Location
MCI7: Breakdown Analysis
MCI8: Cost Analysis
SAP list reports also give you flexible analytical capabilities and include a variety of reporting options via SAP Business Graphics.  Useful list reports for equipment failure data include:
IW29: Notifications
IW69: Notification Items
Standard SAP Business Graphics
From IW28/9 list report.